The Narragansett Screw Company
Manufactures stainless steel and alloy Hex Cap Screws and Tap Bolts to customer specifications. Customer head marks, grade identification, or logos can be made in house to order. Sizes available up to 3/8 diameter 4 inches in length and metrics up to M10 diameter 100mm in length
316 S.S. Hex Cap Screw
This material is recommended for marine use, superior corrosion resistance to salt water and other highly corrosive exposures to prevent fastener pitting and/or head discoloration and possible bleeding through finishes.
302 S.S. or 18-8 S.S. Hex Cap Screws
This material is excellent for most applications were a corrosion resistance fastener is need. However in applications where contact with salt water is expected 316 S.S. is superior.
410 S.S. Hex Cap Screws
This alloy has the lowest corrosion resistance of the stainless alloys but it can be case hardened for applications where extra strength is desired. Typically use for sheet metal and self taping screws.
4037 Steel Alloy
This alloy is used were strength is the primary concern it can be heat treaded to grade 5 and grade 8. After heat treat can be plated with a wide variety of coating to add corrosion resistance.
HEX CAP SCREWS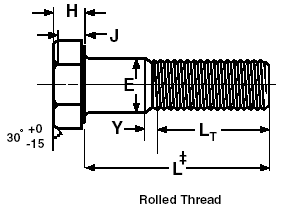 HEX TAP BOLT